Sculptor
15 Dec '12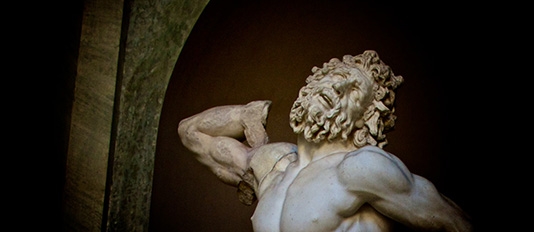 written by Nawid Sahebzadeh | photo © Nawid Sahebzadeh
I'm a man of idea's, overwhelming amount of ideas to be honest. My day job consists of finding solutions and workarounds for numerous and diverse problems in the IT industry, which gives rise to even more ideas on a daily basis. Usually I invest little amount of time in these minor ideas and execute them to my satisfaction or I find that they were rubbish to begin with and abandon them.
Every once in a while I have a great idea, these types of ideas usually sound so weird and outrageous that I must gather up courage to speak of them out loud. So I keep them to myself until they have grown so much that I can no longer suppress it. And I am forced, mainly by myself, to invest copious amount of time to realize them. These are ideas which you cannot simply execute and be done with it. No, they deserve attention to detail and their execution must be a performance by itself.
Almost two years ago I came across a series of drawings made by *massgrfx* (on DeviantArt) which was about innocent looking girls slashing zombies. As I looked through his drawings I immediately embraced this idea as a photo series. I frantically began writing emails to a few models about my idea and it soon became obvious that no one was interested. It was only after a few months before I realized that this was one of those ideas that I needed to give time to grow.
Since then I have thought about it every now and again and have molded the idea more and more in my head to a solid mental picture. In these dark and cold winter months, the idea came bubbling up again and I decided that it was now time to act on it. I contacted some models, including a zombie and makeup artists, and found a nice old building in which to shoot and just did it. It was an amazing experience, and working through the pictures to get my final result, I can say that waiting for almost 2 years has been worth it. My original thought on the subject, back then, was muddy and unclear, which was probably what I, subconsciously, communicated to the models and that's what put them off of working with me. But now that I had let the idea grow and become what it was supposed to be, I had no trouble finding cooperative people and models to make this idea come to life.
What I have learned from this entire journey is that you should know what you want before jumping in there and winging it. There is this story of a famous sculptor who every day visits a big piece of marble for almost a year. When asked why he was wasting his time just sitting there every day, he said:"I'm not wasting any time, I'm working!". The sculptor was sculpting the piece of marble in his head and was visualizing the final statue before he had even bought it.