SXSW #1: The Spark
08 Mar '13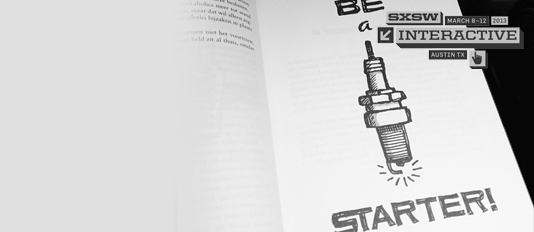 written by Jeroen Mooijman | photo © Jeroen mooijman
From march 8 – 12 Jeroen will explore SXSW Interactive festival for innovation on photography, communities and online business.
Now this is it! The moment I've been looking forward to for quite some time now. I'm finally on my way to SXSW interactive. It's my first one, i feel like a total n00b.. but there's got to be a first time for everything right.
One of the things I did to get the inspiration flow running is (finally) reading the book "REWORK" by the people behind Basecamp, 37signals. I got the new imprint last august and while it was written in 2010, I think most of the ideas presented in this book are still amazingly inspiring and valid. I'm very happy to find that some of the important lessons from this book are in effect at Urban Photo Collecive HQ already!
Now it 's time to (as the book states) "Be a starter!", "Get It Out There!" and "Make a DENT in the universe". Right? Ok let's do it! But one of the first things I'll probably do tomorrow is attending one of the "SXSW Newbie" introductions. And after that, just go with the flow and let the magic happen! Cheers from Austin! 🙂