SXSW #4: Connecting people
22 Mar '13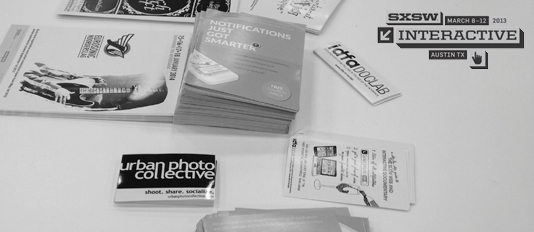 written by Jeroen Mooijman |
From march 8 – 12 Jeroen will explore SXSW Interactive festival for innovation on photography, communities and online business.
Ok so that was SXSW Interactive 2013. I did it! I had a blast.. and it really took me a couple of days to recover from it!
Browsing through my notes and thinking things over I realize that it was truly an information overload. I'm still in the process of digesting all the information I soaked up. But I'm sure things will fall into place at some point in time.
One of the most important things I took home from this conference is the current trend of using technology to create an offline connection between people. Well, that's what the Urban Photo Collective has been all about for about 7 years now! And that's also exactly what we are focussing on for the near future. Connect even more people around the globe through kick ass photography and our ever growing online community!
Another important theme at SXSW Interactive this year was the fact that we don't want to 'own' things, we want to 'experience'. Bingo! Very much Urban Photo Collective. What this means in real terms is that I want to own a nice camera but having fun with it is worth so much more! And the list of hot topic goes on.. (Hyper-) transparency and social business models, the fact that people want to know who they're dealing with in terms of organizations and privacy, what information businesses use to make money etc. (see one of my previous blogs for that)
And also the trend of aggregation of information. We are really working on all of that! O yes and maybe we'll even start 3d-printing our own camera's (that was one of the other big topics at SXSW Interactive.. "Social Hardware").
So one thing I'll certainly do after this SXSW experience is keeping you in touch with all the things we are working on. There are great things happening and I think it's really important to share that with you! So that you get to experience what we do.